Managing a team is not an easy task. You need to not only support them where they are today, but also help them along their chosen career path. In many ways, you hold your employees' futures in your hands, and that's a lot of responsibility.
However, if you care enough to help them reach their goals, everyone will benefit. Your employees will have a happy and fulfilling work environment, you'll be doing a stellar job as a manager, and your organisation will reap the rewards of a super engaged and productive workforce.
The best way to achieve this is to support your employees in putting together a professional development plan that will help them climb the career ladder. Once they know where they want to go, it'll be much easier to get there. You can help them on their way by offering opportunities within your organisation to keep them motivated.
We've laid out a guide to help you start the journey.
What is a career path?
A career path is the direction in which a person chooses to steer their career progression. This can take on several forms:
Becoming a manager vs an independent expert in your field
Joining a company as a full-time employee vs working in a freelance capacity
Pursuing an academic route to your dream role vs picking up a manual skill that allows you to avoid the nine to five.
Of course, you by no means have to sign your life away when you set off on this course at the start of your career. Career paths can and often do change direction later on in a person's life.
As a manager, it's up to you to help your employees to assess whether they're happy with their current career trajectory, or if a different career path might suit them better.
What are the two main career paths?
Probably the most important decision a person has to make in their career is whether to take on the management of others, or develop as an Individual Contributor. The latter means that you can advance from a Junior Engineer to a Senior one, for example, without line-managing a team.
If you're already on a managerial course and want to help guide your team members while they navigate their own paths, there are a few things you can do to show your support.
How you can support your employees' plans
1. Help them assess where they are today
Every journey needs a starting point. You can help your employees assess what steps they need to take by building a sort of inventory of skills they need to do well in their current role. A clear and well defined job description is crucial here, to make sure everyone is on the same page in terms of what the role entails. Be aware that a team member's role might have changed since they first started, especially if the company is scaling fast. Make sure to update the job description to accurately reflect all of the employee's duties and responsibilities.
Once you've got the list of skills together, you can work with your employee to identify which skills they are already meeting, which they are working towards and which they are exceeding expectations in.
If you need some inspiration to put together your core skills list, we have over 220 common career skills with examples you can have a look at.
It's also worth sharing your future plans here. Explain to them what putting together a professional development plan entails and how you intend to help. Even if you don't have clarity on your exact next steps yet, you can outline the general approach, like auditing recruitment plans or restructuring the company's hierarchy, for example.
Ersin Er, an engineering leader who with two successful exits to Zynga and Atlassian who now helps tech organisations deliver value at scale, has a few tips:
Introduce 1-2-1s early, for feedback and setting the tone. This will make people feel safe
Make it natural, aligned with daily practice instead of something that can be interpreted as theatre
Introduce it along with the accompanying performance review, promotion and compensation strategy, for context
2. Get your house in order
Once you know what your employees can do, it's time to think about what opportunities you can offer them.
Take a look at the structure of your organisation - is there space for them to advance? If you're very early stage, then it's likely you'll expand as you grow and the opportunities will come then. In this case, being open and transparent about your future hiring plans is key to keeping employees motivated and engaged. If you're not the main decision maker in the company, you might need to speak to your line manager or the founding team to align around these decisions, so that you don't promise something that can't be delivered.
Remember, the main purpose of this whole process is to retain your best employees. If the budget is there, creating the roles or seeing what other perks you can offer as an incentive might be worth it to keep the talent from leaking.
3. Ask them what they want
It sounds obvious, but often we assume everyone wants to advance to a managerial position. While this is true of many, some people find managing others stressful. They would rather work in their own little pod, with no direct reports, while still climbing the career ladder.
The best way to find out what your employees are interested in is to ask. Regular check-ins, where you discuss your team member's feelings about their work, their immediate goals and their longer term ambitions can help you support them on their way. Being actively engaged with your employees also builds a sense of trust, which means they're much more likely to communicate openly and honestly with you.
Most importantly, don't assume your employees are happy where they are. A 2017 US survey by Accountepms found that 93% of professionals think goal setting is important to their work performance. Almost half of them said they check their progress against their goals weekly.
As a manager, it is your responsibility to help your team achieve these goals.
4. Connect the dots
When you've mapped out where your employees are in their career, what opportunities you can offer them and what direction they are interested in taking, you can put all of those elements together to help them create a defined career path.
This would normally involve a conversation around the areas each person needs to work on in order to close the gap between where they are and where they want to be. Be honest, but also realistic, in your assessment - don't promise them they can be eligible for a promotion in three months, when the skills they need to gain might take a year to master.
There are several ways you can sketch this out with your employees. Some people use spreadsheets, along with word docs and presentations. You can also use an existing template, like the ones in our library.
If you want to see how other companies have gone about putting together a career path framework for their teams, check out progression.fyi.
5. Offer training and development opportunities
There's a difference between an employee not being interested in a managerial role, and someone not believing they're capable of it. If you recognise leadership potential in an employee, but it's clear they've yet to recognise this in themselves, there's a variety of courses you can send them on, both remotely and in person, to build up both their skills and their confidence.
Those who are sure they want to go down the Individual Contributor route mustn't think they can take it easy. The job market is a competitive one and so, if you want to rise up the ranks as an expert in your field, you must build up your knowledge base and make sure your skill set is always up to date. Suggesting training courses in the next professional level, or even an additional skill that can become a useful asset in your employee's arsenal is a great way to encourage them to succeed, as well as make it clear to them you support their career ambitions.
If your company's training budget is limited, you could always recommend online resources for them to read. From how to be a good leader to how to develop your own core skills, the world wide web offers plenty of interesting reading material.
6. Offer a mentorship programme
The written word is a great source of knowledge, but nothing beats real-life experience.
You will probably need to get buy-in from more senior members in your team for this, but a great way to motivate less experienced employees is to pair them up with someone already occupying the space they want to grow into.
They will gain an invaluable insight into the reality of life in that role and can not only learn new skills, but see if the responsibilities and pace of this particular career path is really right for them.
7. Let them at it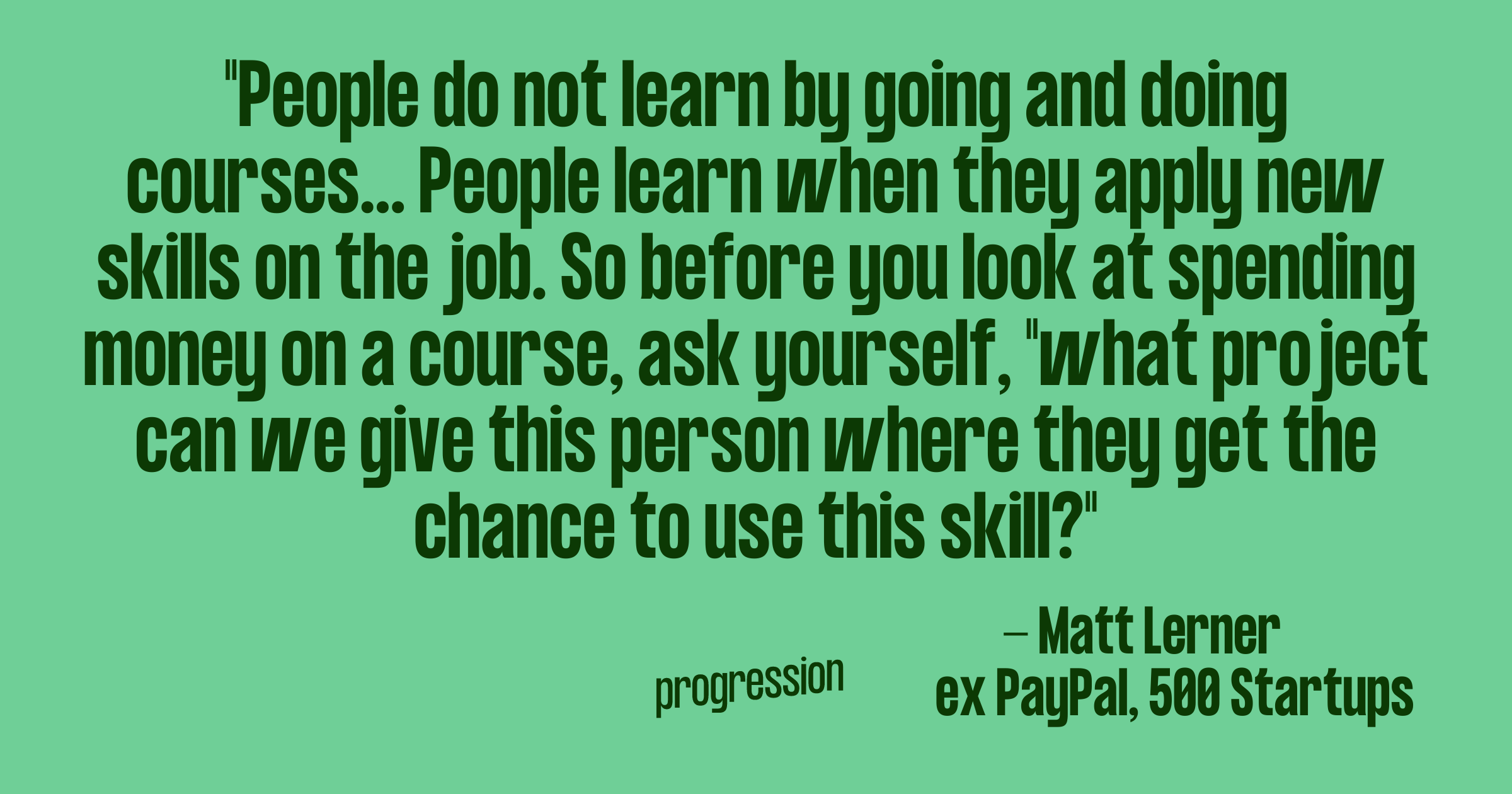 Matt Learner, ex-Paypal, 500 startups and Founder of Startup Core Strengths, believes "The way people think about team development is all wrong". He explains - "people do not learn by going and doing courses, which might be strange to hear from someone who trains startups for a living.
People learn when they apply new skills on the job. So before you look at spending money on a course to help someone flex into a new area, ask yourself, 'what project can we give this person where they get the chance to use this skill'.
If a high potential employee wants to become a manager, you don't need to pay for then to do an MBA. Maybe you could get them to hire an intern and run the process from start to finish. Get them to on-board the intern.
The most powerful way to do this is to get them to dream up ways where they can get the experience, and learn by doing."
Ultimately, you have to trust your employees to do the job. And, sometimes, to do the job they want to have, not just the one they're currently in. Once you've furnished your team with the training and mentorship, throw them in the deep end and set them challenges to rise to. Even if they haven't been through the relevant training, but you think they've got what it takes, let them prove themselves.
Crucially, this is not at all about catching anyone out or making things deliberately difficult. Only give them the level of responsibility you believe they can handle. Your confidence in them will increase their confidence in themselves.
8. Track employees progress
Throughout this entire process, it's crucial to track your employee's successes and note things they may still need help with.
Most businesses that do this well do it at least quarterly, and some even on a monthly basis. If you're only using an annual appraisal system, you're expecting your employees to remember everything they did for the past 12 months. That's not an easy thing to do. You also risk letting issues and grievances fester for a long time, which inevitably leads to conflict.
Checking-in with your employees regularly to hear how they feel about the work they're doing and the career path they're on will help everyone stay on course.  Don't assume that once you have a career framework in place for them, that your work is done. A professional development plan is a dynamic thing and can alter over time.
9. Make it fun
Just because we're dealing with work here, doesn't mean it all has to be entirely academic and boring. There are many different methods you can use to help guide your employees in the right direction. From meditation to manifestation, feel free to think outside the box.
If new-age spirituality isn't your thing, you can try some fun exercises or even a quiz to help your team visualise their dream future.
If this all feels like a lot of hard work, have a look at the tools we have to help. Whether you just want to make sense of the core skills required for each role, or have somewhere to input all the check-in conversations, you can keep it all in one place, accessible to the whole team.
---